I offer classes in smocking, embroidery, heirloom sewing, and silk ribbon embroidery.   All class fees include materials unless kit fees are noted.  Classes change monthly so check to see if there is something you're interested in.   I will always try to accommodate customers if they are asking for a certain class or a technique they would like to learn.
Please pre-register for classes by calling 513-229-7340 so all your supplies will be ready for you.   Payment can be made the day of the class.
October  Classes:
Beginning Smocking:  In this beginner smocking class you will be learning the basic stitches of English smocking on a pleated inset.   Stitches taught are cable, waves, flowerettes, lazy daisy, French knots.   You will learn to read a smocking graph as well as a few construction tips.  After this class you should be able to smock your own design for a garment. All materials are supplied for this class.  10/8   11-2pm.  24.00.
Picture Smocking:   In this intermediate class you will learn to stack cable stitches to form objects.  A basic smocking design is your choice.  There are many tips for getting the best results in picture smocking and these will be covered.  At the end of the class, you should be able to finish your insert at home.   Help is always provided if needed during business hours.    All materials are supplied for this class. 10/5 11-3.  $26.00.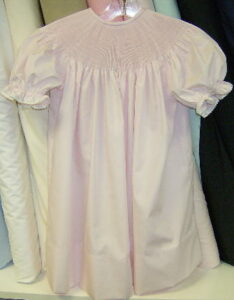 The Corduroy Bishop:  Making a bishop dress from corduroy can be tricky, but the results are beautiful for a winter garment.   There are several adjustments that need to be made in order for the bulk of the fabric to be accommodated.  In this class we will construct a corduroy bishop dress, size and color your choice, using tips for adjustments to get the best fit.  The dress will be constructed in class and be ready for you to smock on your own.   10/19, and 10/26.  11-3.  $70.00.   Kit includes fabric, trim, pleating, and Ellen McCarn Ultimate Bishop pattern.  Machine required.
Heirloom Sewing Basics:   This notebook class will teach you about different fabrics, laces, and trims.  You will learn to join fabric to entredeux, lace to lace, pintucks, puffing, and much more on your own machine.   Your settings can be recorded in your notebook along with sewn samples for future reference.  A great beginner class to familiarize yourself with heirloom sewing techniques.  10/22, 11-2.   $24.00   Machine required along with all available feet.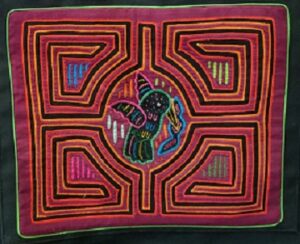 Mola:  Reverse Applique:    Mola is a technique done by tribes of South American Indians resulting in brightly colored designed panels that are used in their clothing and other items.  Layers of brightly colored fabric are cut, following a pattern, and turned back and appliqued. I have brought back many of these panels from Panama and Columbia and have always been intrigued by the work that goes into them.  The panel we will make will be rather simple to start.  Design your choice.  We will be using cotton fabric as this will be easily manipulated.   This is a new project for me so we will work on this together and use our imagination to design our panel.   I have used panels in tote bags and will use some in wall hangings.    10/4, 10/18, and 10/25. 11-2 All materials provided.   $35.00.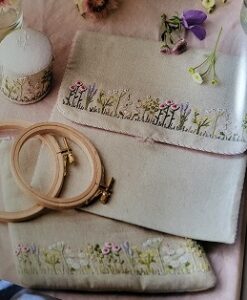 Summer Blooms:  This is a three-piece sewing accessory set of a pincushion, zipper sewing pouch and a hoop envelope embroidered with a delicate field of flowers on a linen background and lined with a fabric of your choice.   This design from Ana Maliah in Inspirations #110 will be a beautiful addition to your sewing accessories.   Basic stitches are taught in this class along with construction of your set.   10/20 and 10/27. 11-3 $58.00.  $73.oo with magazine.  If you choose to do just one part of the set, class fees will be adjusted.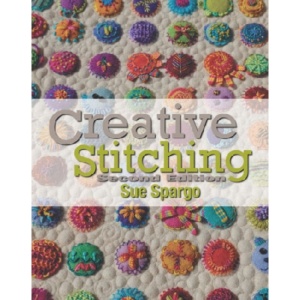 Spargo Stitch Along:   Are you working on a Sue Spargo project that you never find time to work on?  On the first Saturday of each month, we will have a 4-hour time slot set aside for just this.  Bring your Spargo project and stitch with friends and get help and inspiration from others.  Saturday 10/1   11-3, No charge.