I offer classes in smocking, embroidery, heirloom sewing, and silk ribbon embroidery.   All class fees include materials unless kit fees are noted.  Classes change monthly so check to see if there is something you're interested in.   I will always try to accommodate customers if they are asking for a certain class or a technique they would like to learn.
Please pre-register for classes by calling 513-229-7340 so all your supplies will be ready for you.   Payment can be made the day of the class.
July Classes: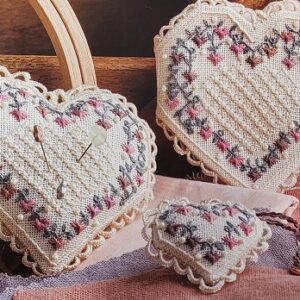 Victorian Hearts:   This three-piece set of sewing accessories consisting of a needle book, pincushion and scissor fob, is worked on cream even weave linen with perle cotton and silk variegated threads using pulled thread techniques, pearls, a detached blanket stitch loop edging, and embroidery.  Taken from Inspirations #114 this design is by Kim Beamish.  A beautiful project.  7/5, 7/12.  11-2.  $36.00.  All materials included.

Basic Smocking:   In this beginner smocking class you will be learning the basic stitches of English smocking on a pleated insert.   Stitches taught are cable, waves, flowerettes, lazy daisy, French knots, outline and stem stitch.   You will learn to read a smocking graph as well as a few construction tips.  After this class you should be able to take on a basic smocking project.  All materials are supplied for this class.  7/6, or Saturday 7/9, 11-2pm.  $25.00.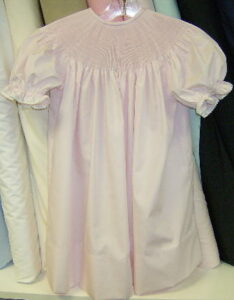 Bishop Workshop:  In this class you will be constructing a bishop neckline dress prior to smocking.   The sleeve variations are your choice.  The fabric choices are Imperial Broadcloth or Imperial Batiste.   After your bishop is completed, it will be ready to smock.   You will learn to do a continuous lap placket, do French seams, apply a neck band, apply lace or trim to a sleeve edge or do a bias band sleeve.  Color and smocking design are your choice for this dress.   7/13, 7/20, 7/27.  11-3.   $65.00.  Machine required.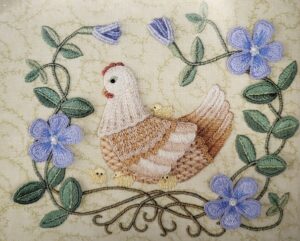 Little Brown Hen:   This needle book or framed picture was a project in Inspirations #114.   Using wonderful Au Ver a Soie and Madeira stranded silk threads, you will learn many advanced stitches as well as stumpwork techniques.  The needle book is edged with beads and the picture is 4″ x 4 3/4″ and can be placed in one of the Mill Hill Frames.   This will be a fun and different project.   All materials supplied.  7/19, 7/26, 8/2.  11-2   Needlebook $40.00.   Picture $45.00.  Please bring a 4″ and 8″ hoop for the picture and a 4″ and 6″ hoop for the needlebook.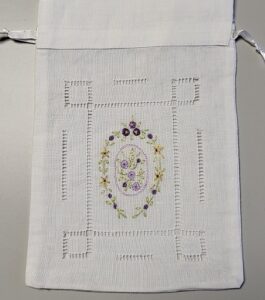 Embroidery 101, Draw String Jewelry Pouch:   This pretty linen hemstitched jewelry pouch which has been pre constructed will be embellished with several basic and advanced embroidery stitches.  Outline, lazy daisy, French knots, blanket stitched pinwheel, bullions and more.   You will be amazed at the results that you get.  Bring a 4″ hoop to class, all other materials are provided.  2 weeks.  7/21 and 7/28.  11-2. $30.00.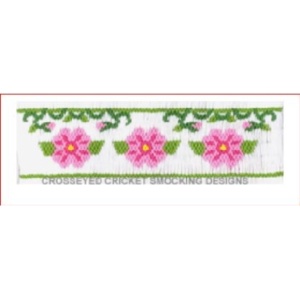 Picture Smocking:  Take your smocking to the next level by learning the proper way to stack cables to form figures.   In this class you will smock a basic picture smocking design of your choice using a pleated inset that can be later used in a garment.  You will learn to stack cables, change floss colors mid row, work half stitches, and learn to read a picture smocking graph.  All materials provided.  7/14 11-3 $30.00.
Heirloom Sewing Basics:   This notebook class will teach you the techniques used in heirloom sewing.  You will learn to sew with entredeux,  lace edging, lace insertion, how to join laces, do pintucks and puffing as well as learning about the different fabrics, laces and correct supplies to use.    You will need to bring your sewing machine with all available feet for your machine that you have.   Saturday 7/16 11-2.  $26.00