I offer classes in smocking, embroidery, heirloom sewing, and silk ribbon embroidery.   All class fees include materials unless kit fees are noted.  Classes change monthly so check to see if there is something you're interested in.   I will always try to accommodate customers if they are asking for a certain class or a technique they would like to learn.
Please pre-register for classes by calling 513-229-7340 so all your supplies will be ready for you.   Payment can be made the day of the class.
August Classes: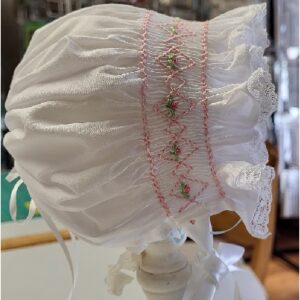 Smocked Baby Bonnet:   In this beginner smocking class you will be learning the basic stitches of English smocking on a baby bonnet.   Stitches taught are cable, waves, flowerettes, lazy daisy, French knots.   You will learn to read a smocking graph as well as a few construction tips. All construction has been done except for adding the ties.  After this class you will have a completed bonnet.  All materials are supplied for this class.  8/11.   11-3pm.  $32.00
Hemstitched Baby Blanket:  This cashmere cotton blanket is edged in lace that is hemstitched with a wing needle.  Similar to flannel Cashmere cotton is a wonderful pima cotton that works well with hemstitching.  Color choices are white, pink, or blue.  Your blanket will be edged in French lace and a small amount of embroidery is done on one corner.   A perfect gift or to tuck away in your grandmothers hope chest.  8/10, 11-3.  $45.00.   Machine required.  All supplies provided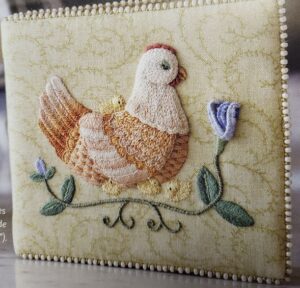 Little Brown Hen:   This needle book or framed picture was a project in Inspirations #114.   Using wonderful Au Ver a Soie and Madeira stranded silk threads, you will learn many advanced stitches as well as stumpwork techniques.  The needle book is edged with beads and the picture is 4″ x 4 3/4″ and can be placed in one of the Mill Hill Frames.   This will be a fun and different project.   All materials supplied.   8/2, 8/9, 8/16.  11-2   Needlebook $40.00.   Picture $45.00.  Please bring a 4″ and 8″ hoop for the picture and a 4″ and 6″ hoop for the needlebook.
Embroidery 101, Draw String Jewelry Pouch:   This pretty linen hemstitched jewelry pouch which has been pre constructed will be embellished with several basic and advanced embroidery stitches.  Outline, lazy daisy, French knots, blanket stitched pinwheel, bullions and more.   You will be amazed at the results that you get.  Bring a 4″ hoop to class, all other materials are provided.  2 weeks.   8/18 and 8/25.  11-2. $30.00.
Heirloom Sewing Basics:   This notebook class will teach you the techniques used in heirloom sewing.  You will learn to sew with entredeux,  lace edging, lace insertion, how to join laces, do pintucks and puffing as well as learning about the different fabrics, laces and correct supplies to use.    You will need to bring your sewing machine with all available feet for your machine that you have.   Saturday 8/13, 11-2.  $26.00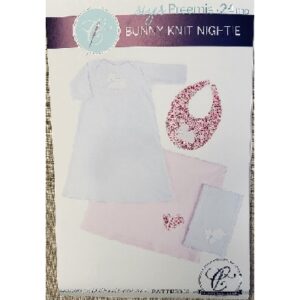 Bunny Knit Nightie:  Working with Sea Island Baby knit this simple knit nightie is a basic pattern from Children's Corner.  The fabric is a beautiful soft knit in white, pink, or blue.  A machine shell edge finishes the neckline, sleeve edge, and hem, or a drawstring bottom can be done.  This is a great gift for a newborn or a baby shower.  2 weeks, 8/17 and 8/24   11-3.   $48.00.  Machine required.  Materials and pattern provided.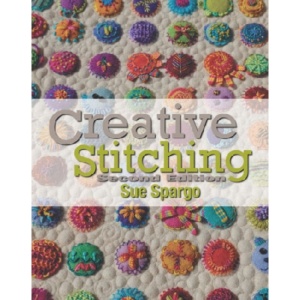 Spargo Stitch Along:   Are you working on a Sue Spargo project that you never find time to work on?  On the first Saturday of each month, we will have a 4-hour time slot set aside for just this.  Bring your Spargo project and stitch with friends and get help and inspiration from others.  Saturday 8/6.  September date 9/3.  11-3, No charge.